don't leave another EMPTY page in your life...
and you don't have to — when you have the RIGHT journal software!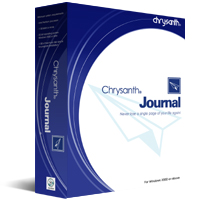 Every person has a life story — a story that deserves to be documented and reviewed for pleasure or passed along to future generations. And the time to start recording your thoughts, dreams, feelings and frustrations (along with your photos) is NOW!
As a leader in digital journal software, Chrysanth Journal offers you much more than a paper journal in many areas — and best of all, it doesn't require a rocket science degree to get started

. In a nutshell, this journal software:






Buy Journal now and get started on your life story today. In fact, we are willing to back our words with a 30-day, no-questions-asked, full-money-back guarantee for all customer purchase.
Get Chrysanth Journal now — no risk, no strings attached!
If you are still not convinced yet, don't worry! For a limited time, we're offering you a FREE, fully functioning 45-day trial of this leading digital journal software. We're confident that once you experience it, you'll never want to let it go.